Why Azure Is One of Just Two Leaders in Gartner Magic Quadrant for Enterprise Application PaaS
In early 2014, Gartner released its Magic Quadrant for Enterprise Application Platform as a Service recognizing Microsoft Windows Azure and salesforce.com as leaders in the marketplace.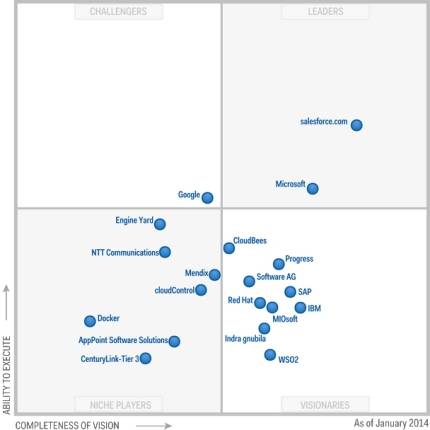 The Windows Azure leadership position showcases its strengths, especially as the solution is relatively new in the arena (released in 2010).
What makes Windows Azure so powerful? Let's look into the benefits our company considered when choosing Azure as its PaaS solution for Orienge Conterra FIM in the cloud.
Any customer like Orienge examines the vendor offerings before narrowing down its search. To make an informed decision and select the best match for the business, they use special criteria such as automation, development and integration options; security, high availability and uptime; easy-to-understand pricing and payment methods with no extra charges. In this respect, Microsoft Windows Azure fully and consistently meets customers' expectations.
Easy Deployment and Powerful Development
Windows Azure provides endless possibilities for automated deployment, cloud services management and configuration. Azure web-based panel with predefined VM templates and PowerShell scripting features turns new virtual machine deployment into literally one-minute procedure with very little administrator involvement.
Azure gives developers the choice to build applications using a rich set of languages, tools and frameworks. Thanks to this variety, finding the right developer is not a challenge. Windows Azure-based solutions can be easily customized according to each end-customer need.
Integration with No Limit
Windows Azure helps you seamlessly integrate the resources deployed in the cloud with the customer's corporate network. SaaS vendors can even make their end-users not feel the service is located somewhere else. SaaS solution will be logically within the company network and comply with the corporate security policies. At the same time, SaaS application will be a proven infrastructure component managed by the vendor, which allows end-clients to spend their time and resources on optimizing other business-critical tasks.
Remarkable Security
Microsoft offers a large portfolio of global data centers. The data centers and services are maintained by SSAE 16 certified Microsoft's Global Foundation Services providing reliability of SaaS applications for its customers trusting the mission-critical data to the cloud.
In case of Orienge Conterra FIM, we also deal with financial data that requires even more accuracy and security.
No Extra Charges
As the official Windows Azure website says, "billing and built-in auto scaling enable you to pay only for the infrastructure you really need and spin up/down resources automatically based on actual usage."
This means that a Windows Azure customer can offer its clients SaaS solutions configured and scaled to pay for only what is used with no extra charges.
Finally, other significant Microsoft benefits to mention are customer focus and discounted rates for large set of resources. This is another good reason to choose Microsoft Windows Azure, as the less you pay for the system deployment the more attractive price you can offer to your customers.