Orienge Business Solutions Approach
The key goal of Orienge is to bring new opportunities to business owners and managers with ready-to-use and affordable business solutions. A Conterra-based business solution is a ready-to-deploy answer to a typical business challenge. Each business solution is designed to solve a particular business task, e.g. accounts payable automation, records management or contract management, and contains a complete set of tools that allows users to solve the task within a short time frame, with reasonable costs, and with high accuracy/efficiency.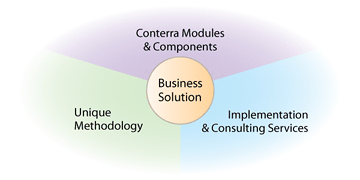 Conterra Modules & Components. Orienge solutions are based on Conterra's applied and core ECM modules, platform components, and your existing third party software. This flexible structure allows us to efficiently customize and build any business solutions.
Unique Methodologies. Orienge has worked out a complete methodology for every business solution. We can, and we know how to customize any our solution to the specific needs of your organization, no matter how big it is, how complicated the processes are, or how many groups of users are going to work with the solution
Implementation & Consulting. Orienge solutions include perfect implementation, training, and consulting services. We are always ready to help you identify your most urgent business challenge, find the optimum answer to it and provide you with first-class implementation.
The catalog of Orienge business solutions currently includes the following:
While these robust Conterra-based solutions are ready to go, they can be further customized for any highly specialized needs. Other solutions can be built as well.